Cims del Montsant Red wine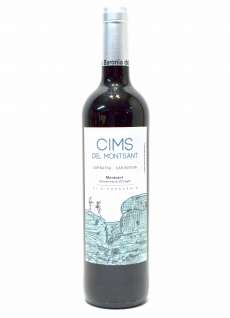 Year: 2014
Winery: Cellers Baronia del Montsant
Alcohol: 13,5 %
Variety: Garnacha
Quantity: 75 cl
The name of Montsant Cims is our small tribute to one of the most emblematic peaks of the mountain range Montsant, whose peaks soar to more than 1000 meters above the sea level. Our logo is also a very personal and abstract representation of the top.
Grapes, harvested manually in boxes of 14 Kg, are driven to the winery and once there, selected manually, picking only those clusters that have a State of maturity and health right.
Later grapes are destalked and crushed slightly and driven at all times to different recipients of fermentation by gravity (without the use of pumps).
Each variety grape, fermented and macerated with the pasta separately, at a controlled temperature of 24 ºc, using this process, stainless steel tanks. During this period of time (approx. 8 days) be practiced daily traced 1 and a delestage in order to extract the sweet of our grapes and its great aromatic potential and colour and tannins.
After racking is done the malolactic fermentation, with the aim of increasing the volume of the wine in the mouth, as well as to also get a microbiological stabilisation. Breeding also develops varietal and independently using the origin for each variety and toasting barrel more appropriate.
Parenting has been 5
Awards or Recognitions:

90 Parker points.

90 points Peñín.