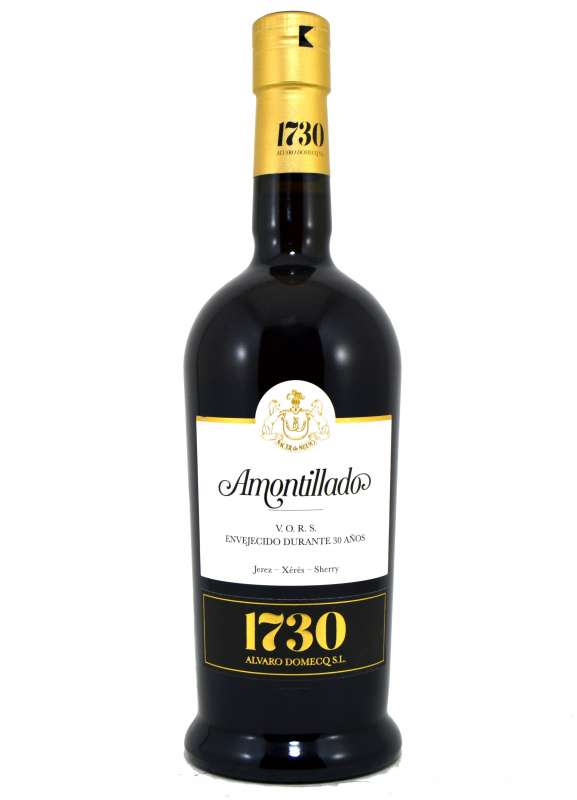 Amontillado V.O.R.S. 1730 Álvaro Domecq
Winery: Álvaro Domecq
Alcohol: 20 %
Variety: Palomino
Quantity: 75 cl
Jerez wines are made with Palomino grapes. The harvest takes place in late August or early September depending on the year. Once harvested, it is fermented in steel tanks at a controlled temperature. Once the fermentation is finished, the finest and most delicate musts are selected for the production of our fine wines. Initially, the natural alcoholic graduation is 12% Vol. This wine of the year is topped with vinous alcohol up to a graduation of 15.5 Vol. The aging process begins with biological aging by the Jerez system of solera and criaderas, in oak casks. American of approx. 500 liters capacity. Once the biological aging is exhausted, wine alcohol is added up to 16º Vol, starting the oxidative aging during the long aging period of this amontillado, a complex process is produced in which the aromas of the biological aging are united, the extraction of Aromatic compounds of the wood, the oxidation and the concentration of the substances in the wine, reaching this wine to reach 19.5% Vol of alcohol content.
Amber in color and great aromatic intensity, it has sharp notes that recall its biological aging, as well as notes of almonds and wood. It is smooth and very dry on the palate, with a great persistence in the mouth.
It is ideal to accompany medium-aged cheeses, soups and consommé, white meat and blue fish.
Similar sweet wines