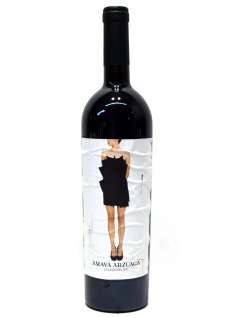 Amaya Arzuaga - Etiqueta algo deteriorada Red wine
Year: 2011
Winery: Bodegas Arzuaga Navarro
Alcohol: 14,5 %
Variety: Tempranillo
Quantity: 70 cl
When the grapes reached maturity it was preselected in the strain and was harvested in boxes of 10 kilograms for transfer to the winery, where it was selected again to cover it with its own scrape in a 5,800-liter French oak vat, in which A step was performed for 6 days before alcoholic fermentation. -
- Once their alcoholic fermentation began, together with the treading of the clusters,
the appropriate bazuqueos were carried out. After 20 days of stay, the wine was discovered and introduced into 15 new French oak barrels from different forests to achieve the aromatic complexity that characterizes it; The stay in the barrel was extended from mid-November 2011 to July 2013, when the wine was bottled.
VIEW: Clean, bright, with high intensity, ruby red with cherry nuances.
NOSE: Intense aromatic complexity, subtle memories of acacia flowers and violets. Marked character of stone fruits, ripe red and black fruits. The notes of leather, nuts and spices extend the first sensations. -
- MOUTH: Unctuous, velvety and tasty. With an elegant step and great persistence. In retronasal we remember again the great aromatic complexity that we perceived in the olfactory phase.
Similar Red Wines