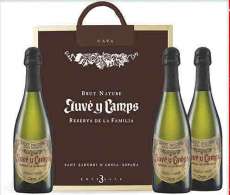 3 Juvé de La Familia en caja de madera Red wine
Classification: Reserva
Winery: Juvé y Camps
Alcohol: 12 %
Variety: Parellada, Macabeo
Quantity: 75 cl
Cava with a bright and attractive pale golden color. Its tiny and abundant bubbles, Ascend forming many rosaries and, once on the surface, form a stable Crown. Deep, intense and pleasant, it evokes initially notes of ripe white fruits. Little by little its complexity grows and appear the aromas of a long ageing. Memories of toasted bread and some citric background complete the distinguished aroma. The creaminess of your foam fits perfectly on the palate, making its passage through mouth simultaneously fresh, appealing and suggestive. All the aromas perceived in the glass are displayed in its long finish.
Appetizer, desserts of dried fruit, desserts, combined with all kinds of dishes.
Awards or Recognitions:

93 points Parker.

91 points Peñín.
CAVAS similar