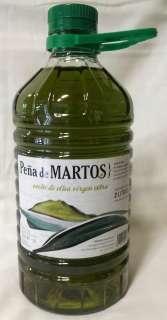 Packaging: PET (plastic)
designation of origin: Jaén countryside
Variety: Picual
Quantity: 2 liters
It's a virgin olive oil extra, which has managed, during many campaigns, to captivate the palate of the consumer of Virgin olive oil, which by its quality and classic taste, is sued by the growers and consumers, accustomed to the sweet taste of a good olive oil of Martos. This oil is made from the second half of November, with olives, picual, surpassing the strictest controls both for the phase of cultivation and harvesting, as extraction by mechanical procedures and conservation.
TASTING:
COLOR: yellowish green, with bright, shiny and gold reflections.
Scent: complexity of aromas of green and fresh fruits.
FLAVOR: great correspondence with olfactory perception, mild, almost sweet entry, then appearing a light and sour spicy very equiibrados. Velvety with good persistence.