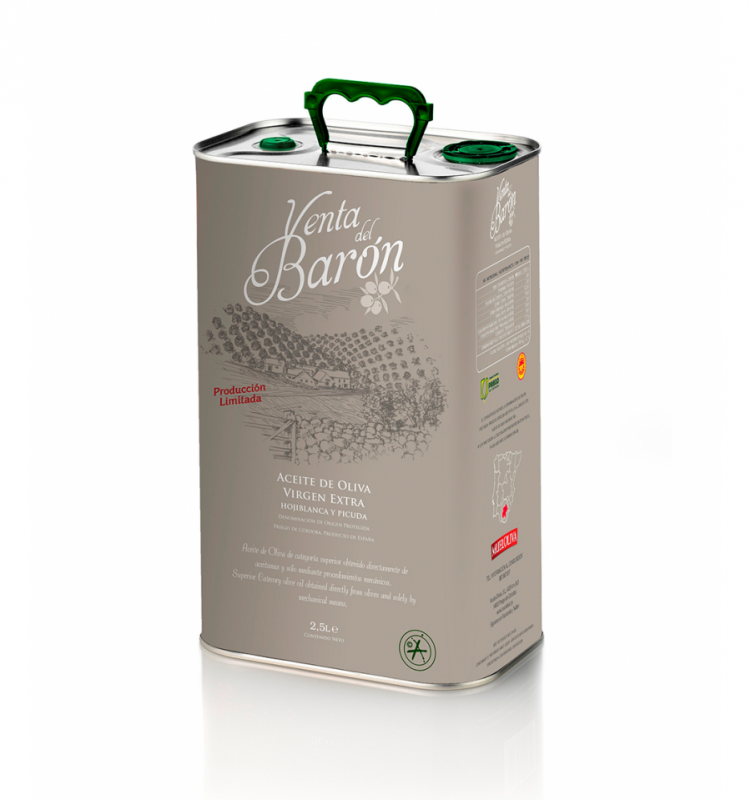 Venta del Barón Olive oil
Packaging: Can
designation of origin: PRIEGO de Córdoba
Variety: Hojiblanca, Picudo\/Carrasqueña
Quantity: 2,5 liters
Venta del Barón extra virgin olive oil.
2.5-liter Tin.
Tasting takes us into an intense fruitiness of olive green with herbaceous notes, mint, almond, banana and Apple Peel. Vegetables such as tomato and artichoke reminiscences mouth entry is sweet, slightly bitter and spicy in progression. The aftertaste is almonds. Very complex, balanced and harmonious in all its sense of smell-taste attributes. The best air freshener for breakfast (with rustic bread), snacks, complex salads and any dish to give it a unique flavour
among the top 8 in the world.
Awards or Recognitions:

Since 1998 Venta del Barón, encompassed under the denomination of origin protected Priego de Cordoba, has received more than 60 awards from 8 different countries, notably the awarded by the international olive oil Council as best oil in the world and that of the Ministry of agriculture as the best olive oil Extra Virgin of Spain. It is in the No. 1 World completo Best Olive Oils.

Is used by Martín Berasategui to the realization of their dishes. Also in hotels including the Waldorf Astoria and restaurants as Alain Ducasse, both located in the city of New York.

World´s Best Olive OilsFlos Olei Oleario 2013Concorso Internazionale Sol d'OroDer FeinschmeckerNY International Olive Oil CompetitionLos Angeles International Extra Virgin Olive Oil CompetitionLogotipo Diputación de Córdoba best Virgin Extra of Cordobalogo MontiferruInternational Taste
Buying 4 units or more: 45,18 € per unit
Venta del Barón: More products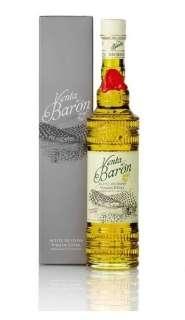 Similar olive oils