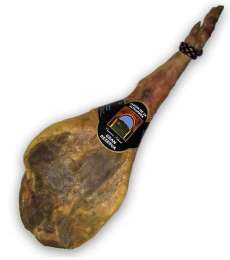 Maturation: 16 months.
Alpujarra-cured ham. Slow ripening in natural drying and rest in the winery. Completely natural, without preservatives or colouring.
Of delicate flavour, little salted meat (maximum content of 5% sodium chloride). Red and shiny appearance to the Court, with partially infiltrated in muscle mass fat. Fat consistency sticky, bright, pleasant taste and white-yellowish coloration.
Ingredients: pork and sea salt-cured ham.