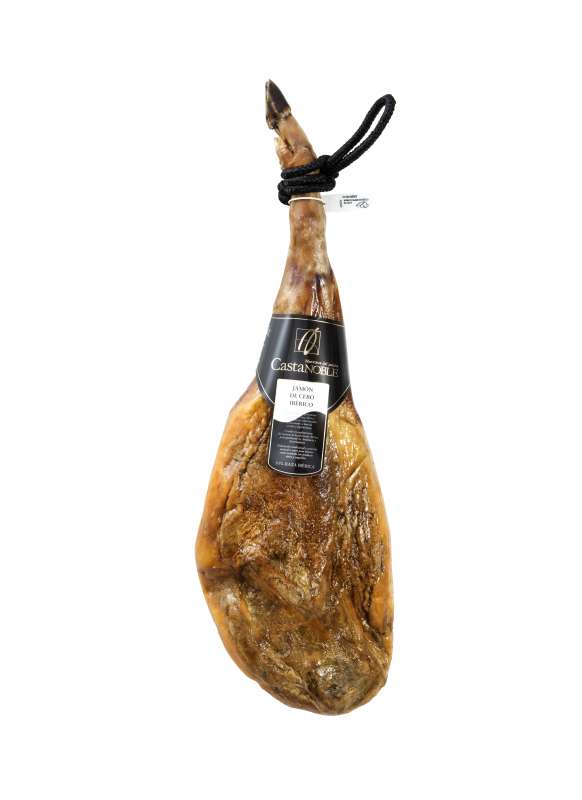 JAMON DE CEBO IBERICO CASTANOBLE Iberian ham
Part: Ham (rear)
Weight: 8 kilogram
Iberian bait ham 50% Iberian breed.
Appearance # -
- # The appearance of the lean is a characteristic color that ranges from deep purple red in the area with the most healing, to pink in the area with the least healing. Homogeneous pearly white veining with glossy-looking grease. In the cut you can see small "specks" or "crystals" of white color (tyrosine crystals), a sign of slow healing and low salinity. # -
- # Smell # -
- # Iberian Cebo Ham gives off a mild and characteristic odor, the result of a careful diet and slow natural healing. # -
- # Texture # -
- # Depending on the area of the piece, we find a firm, juicy and homogeneous texture when cutting. While at the tip and the knuckle or hock we find a more fibrous and tight texture. # -
- # Flavor # -
- # The flavor of Iberico Cebo Ham is distinguished by its delicate, slightly salty flavor, with a mild bouquet. Semi intense and pleasant finish on the palate. # -
- # A careful selection and an elaboration experienced over the years allows us to offer you this product with an unbeatable flavor and aroma. # -
- # Dried naturally, taking advantage of the weather provided by the production area. # -
- # Preparation: Natural (without artificial dryers). # -
- # Allergens: Does not contain any type of allergens.
Awards or Recognitions:

Marca de calidad "TIERRA DE SABOR"

Producto certificado por CALICER

Número de certificado: PI/0943/19
Buying 2 units or more: 247,36 € per unit
Similar Iberico hams