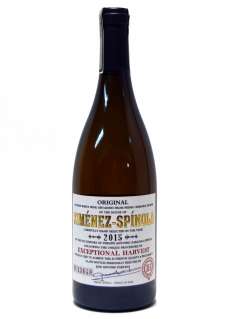 Ximénez-Spínola Exceptional Harvest
Winery: Ximénez-Spínola
Alcohol: 12,5 %
Quantity: 75 cl
Ripening on the vine 21 days more than usual harvest, which makes the grapes that remains uncut, acquiring natural grade and sweetness without arriving at focus in exceedingly. This makes the final performance of this wine only 575 litres per ton of grapes.
Raised on their own Lees for 4 months in old American oak barrels, which we previously envinamos with our wines from oxidative ageing. It is a process of controlled soft battonage, which avoids using new oak astringency and power of new oak, combined with the intensity of your process, not do losing elegance to the final result.
Annual volume of bottles obtained varies depending on weather conditions that can develop between the second half of September and the first of October. In any case, more than 30,000 bottles never get a year.
VISUAL: wine of golden color intense, clean and bright, with apparent density was unusual for a white wine.
OLFACTORY: nose heavy, with exceptional aromas of late collection: figs, raisins and plums, mixing with fermentation aromas and pastries, own of the aging on Lees. It develops very marked aromatic memories of its variety.
TASTE: light and intense mouth in equal parts. So subtly unctuous, full but not tired. The acidity and natural sweetness, play with
Similar sweet wines