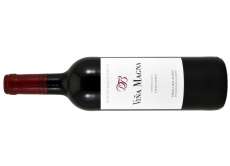 Viña Magna 6 Meses Red wine
Year: 2019
Winery: Dominio Basconcillos, S.L.
Alcohol: 14 %
Variety: Tempranillo
Quantity: 75 cl
The rainiest winter and spring in recent years provided the vineyard with optimal water reserves throughout the summer, which was hot and dry.
A final ripening without rain and with great temperature fluctuations, resulted in a harvest of excellent quality. Perfect balance between alcohol and acidity allows a fresh and elegant mid palate.
Clean and bright cherry color. The wine from this vintage is defined on the nose by a markedly fruity character, strawberry, raspberry, blueberry, and mineral notes from calcareous soils. A wine very balanced in freshness and acidity that allows a fresh entry in the mouth, with a soft tannin with a long and persistent finish.
Similar Red Wines