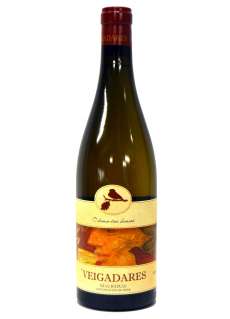 Year: 2011
Winery: Viñas e Adegas Galegas.
Alcohol: 13 %
Variety: Albariño
Quantity: 75 cl
Selected grapes from the vineyards of the Pazo de Almuíña, located in or Arbo (or County) are used for the production of Veigadares and which have an area of 24 hectares. The Pazo, protagonist of these vineyards, is part of the Galician heritage and rises on the old Camino Real linking the South of Galicia with the Peninsula. Since its inception was devoted to agricultural activities and are the conclusions of the own Almuíña Word, which comes from the Arabic etymology and means garden. Even the Celtic derivation of muin meaning vine, links him directly to the cultivation of the grape...
APPEARANCE: yellow straw gold, brilliant.
NOSE: clean and powerful, elegant and complex. Aromas of fruit (pineapple, passion fruit, loquat, Apple and lime), aromatic herbs (laurel), mentholated and fine toasted by his stay in barrels.
PALATE: in mouth is tasty, aromatic, unctuous, fresh and with very good balance between fruit sensations and the barrel. Notes of fresh fruit (peraypina), Rosemary, smoked, dairy, fresh herbaceous. Long and aromatic finish.
Seafood, white fish in creamy sauces, blue fish baked, smoked sausages, white meat and grilled bird.