Vega Sicilia Único Red wine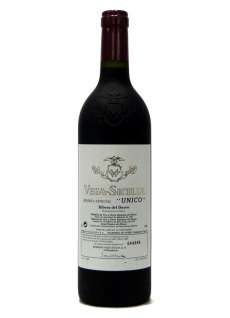 Year: 2006
Winery: Bodegas Vega Sicilia
Alcohol: 14 %
Variety: Cabernet Sauvignon
Quantity: 75 cl
It is Vega Sicilia reference wine, although it shares with the rest of the wines from the winery his Special Flash. It comes from the oldest vines of the property and in its composition, as well as tempranillo, enters more cabernet sauvignon than merlot. Although it is old, the Red keeps a resiliency provided by its good acidity with a resounding alcoholic.
A unique wine - never better said - that seduces by its elegance, sobriety and quality, comparable only to other great wines of the world. Raised 12 months in new barrels and five years in old wood, they released polished enough to be enjoyed instant
pairs with meat fine and tasty, like a civet of roe deer, ox, white meats, baked pork and grilled lamb.