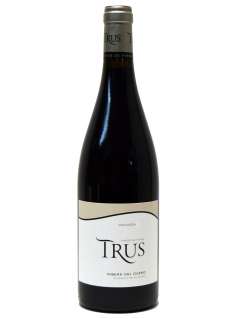 Classification: Crianza
Year: 2017
Winery: Bodegas Trus
Alcohol: 14 %
Variety: Tempranillo
Quantity: 75 cl
Estate's wine elaborated with the red variety fine Fuentecubo plots, La Pintada, La Pedrera, Valdezate and Valverde, total surface 32.5 searched. Fermented in casks of French oak and raised in barrels for 14 months.
Selection of clay-calcareous soils to give wines with fruit, volume, and complexity.
Artisanally in French oak vats.
Intense and prolonged macerations. Malolactic in wood casks. 14 months in French oak barrels. Subsequent maturation in vats for a perfect Assembly.
Natural stabilization, without filtering.
Red cherry with purple nuances. Layer high and deep.
Intense nose, ripe plum and cinnamon.
In mouth is very intense and elegant, joining the fruit and the contribution from the soft barrel, with notes of cinnamon and spices. Noted for finesse and elegance, resulting very long in the passage through the mouth.
Include mineral nuances in the end. The pleasant acidity, balanced with the alcohol, make that they complement each other very well and that is a long and intense wine. You will earn much in the bottle.
Wine Ribera especially suitable to accompany any dish cooked, vegetables and meat.