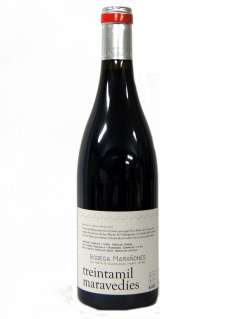 Treintamil Maravedíes Red wine
Year: 2017
Winery: Bodegas Marañones
Alcohol: 14 %
Variety: Garnacha
Quantity: 75 cl
Garnacha from four plots: Dehesa, Vista Alegre, Manzanillo and cashews. Very weathered granitic soil. Sandy texture. Fresh, deep and rich in organic matter soils. Altitude 650\/800 meters. Mediterranean climate. Wine region. Organic vineyard. Yields of 3,000 to 4,500 Kg\/history. Small clusters.
Vinification: maceration prefermentativa cold. Fermentation in vats of wood of 3,000 to 4,500 litres. Partially Destemming native yeasts. Pigeage. Discover 300 to 500 litre oak casks and vats of 45 Hl. aging with its lees. 8 months. Assembly to 4,500 litres wood casks during 2 months.
Mouth it is fresh and tasty, it has notes of red fruits and hints of smoked in the nose. Final average but very nice.
Awards or Recognitions:

91 points Peñín.