Torelló 225 Nature White wine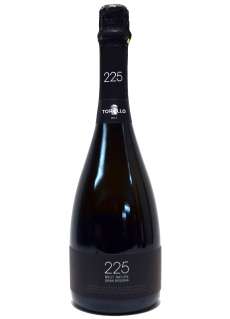 Classification: Brut
Winery: Torelló
Alcohol: 12 %
Variety: Parellada, Macabeo
Quantity: 75 cl
Winemaking and aging: gentle pressing to obtain the flower must. Wine raised in oak barrels. Minimum of 30 months of ageing in rhyme.
Removed: manual wine on desks.
Gold color, fine bubbles, little training of Crown. Aromas derived from the barrel, vanilla mainly, but also hints of white fruits very ripe, similar to those they found in the old white, possibly toasty tondonias of the barrel. If we had to choose one word to describe his nose would be that fobs off it. In the mouth it has a pleasant, becoming manifest through finish those toasted memories from the barrel, with a seamless integration of the carbonic and a feeling of freshness and roundness that elevates the outcome and invites more.
Cannelloni, white fish, chicken Grill, sushi, sashimi.
Awards or Recognitions:

94 points Peñín.