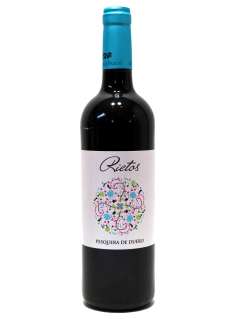 Year: 2016
Winery: Bodegas de los Ríos Prieto
Alcohol: 13 %
Variety: Tempranillo
Quantity: 75 cl
This wine had a step by Bordeaux casks of American oak for six months, scorning any kind of physical or chemical treatment from its preparation.
Before heading out to the market this wine remain in the bottle, as a minimum, the same time as in the barrel because we consider basic ageing in bottle.
Thick layer of currant color intense, vivid and lively, with violet nuances and a very deep that varies around a layer thin layer to azulones tones. Tear it thick. Perfect setting for a wine with structure and freshness that are expected of a large young oak.
Powerful and outspoken are the aromas that migrate from the Cup. Cherries, strawberries, blackberries and currants, mark the profile of this varietal Tempranillo, with a subtle and fragrant touch of brioche and yogurt. During its development in glass are fleshy fruits and notes of Compote. Passage through mouth gives a fine toasted aromas (toffee, mocha) and nuts as the toasted almond, and hazelnut
in the mouth appears fresh and soft on the palate, with sweet tannins that reminds the Nugget, the aftertaste of flavor and aromas in continuous evolution as well as a very long persistence in the mouth.
Hunting hair, small, Jamón Ibérico de bellota game.