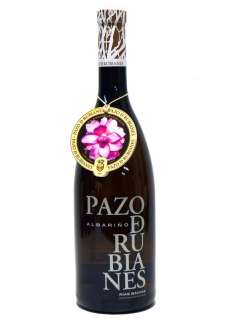 Pazo de Rubianes White wine
Year: 2019
Winery: Paloma Rey Fernández-Latorre
Alcohol: 13 %
Variety: Albariño
Quantity: 75 cl
Our Albariño is made from grapes from the trellises of Uptown. A careful elaboration, which has as its main character the excellent quality of the grape's departure. Collected in 17 kg, processed in the winery in less than 3 hours after being harvested. After a cold maceration, fermentation takes place in temperature controlled stainless steel tanks. After fermentation, is the aging on Lees, for ending the stabilized cold and subsequent bottling.
Its quiet production between 10 and 12 months guarantee a longest optimal consumption.
Wine limpid, transparent and honest. Aromas of fruit, flower... a good fragrance and freshness. Wide, long and proud. Lover in mouth with an aftertaste that does not leave indifferent. Eyes closed - daydreams... eyewitnesses of Rías Baixas with own speech.
Similar White Wines