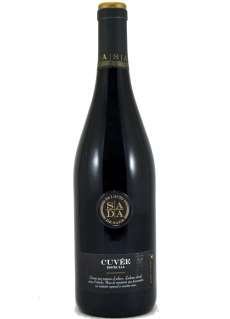 Palacio de Sada Cuvée Especial Red wine
Year: 2016
Winery: Bodega San Francisco Javier S.C.
Alcohol: 14 %
Variety: Cabernet Sauvignon, Garnacha, Merlot
Quantity: 75 cl
This Special Cuvée is obtained from the mixture of wines made from different plots, to show the high potential of our mountain vineyards. With a majority base of Garnacha wines in combination with Cabernet Sauvignon and Merlot wines, and after maturing in barrels, it shows a special aromatic intensity and that elegance and complexity characteristic of our vineyards.
A wine with a high medium layer, covered cherry color and ruby rim.
Complex aromas of ripe plums, dark, toasted fruit and cocoa.
In the mouth it is tasty, with a friendly tannin, marked by wood. It has a wide finish with great volume and spice.
Similar Red Wines