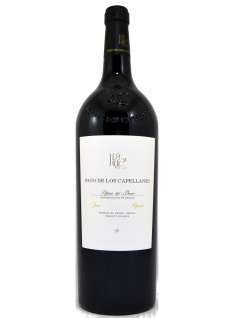 Pago Los Capellanes (Magnum) Red wine
Classification: Reserva
Year: 2016
Winery: Bodegas Pago de los Capellanes
Alcohol: 13,5 %
Variety: Tempranillo
Quantity: 1,5 liters
Selected harvest in 15kg boxes. Cold pre-fermentation for 6 days. Alcoholic fermentation in a controlled manner, with the addition of native yeast selected from our best vineyards, for 20 days with daily pump-overs.
Malolactic fermentation takes place very slowly, without the addition of bacteria, tempering the cellar at 20ºC for 28 days.
The wine rests for 14 months in 300l fine grain French oak barrels. It is bottled without filtering or clarifying.
At sight it offers a ruby color with intense garnet tones.
On the nose its fine complexity stands out with tones of ripe fruit, cherry, currant and smoky touches with a licorice background.
Its passage through the mouth presents a great balance due to the maturity of its tannins.
Sausages, Grilled red meats, Civet, Big game, Game birds, Cured cheese, Acorn-fed Iberian ham
Awards or Recognitions:

91 Parker points.
Similar Red Wines