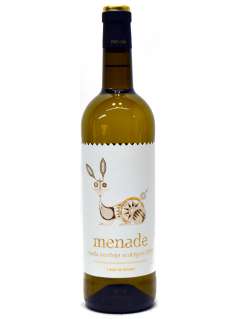 Menade Verdejo Ecológico Organic wine
Year: 2019
Winery: Bodegas Menade
Alcohol: 12,5 %
Variety: Verdejo
Quantity: 75 cl
Harvest: Three types are distinguished; in green, day and manual, night and mechanized.
Alcoholic fermentation: Stainless steel tank with wild yeasts (spontaneous, typical of the grape). Controlled temperature 18-22ºC. Deposits of different capacities, thus being able to separate the various plots - payments according to the differentiation of structures and soil overlays. Subsequent maturation of the wine in its sediments for a controlled time.
Stabilization: Clarification with bentonite, natural stabilization against cold, filtration.
Color: Straw yellow with greenish reflections, clean and bright.
Aroma: Concentration of varietal and mineral aromas. White fruit aromas intermingled with herbaceous-type aromas stand out - notes of bay leaf, fennel and aromatic low bush plants such as thyme.
Mouth: Dry, tasty and balanced. Certain bitter touches typical of the Verdejo, round with volume. Natural acidity supports a long, elegant finish.
Similar White Wines