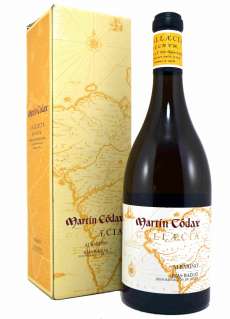 Martín Códax Gallaecia Albariño White wine
Year: 2016
Winery: Bodegas Martín Códax
Alcohol: 13,5 %
Variety: Albariño
Quantity: 75 cl
Martín Códax Gallaecia is the definitive consecration of the Albariño grape as one of the best and most versatile white varieties in the world. Fruit of the vinification of overripe grapes, with a high percentage of noble botrytis, Gallaecia is the result of long years of experience in the cultivation of Albariño.
Fermentation: Alcoholic: In stainless steel tanks. Bad-lactic: In stainless steel tanks.
Visual phase: High layer ripe lemon yellow color.
Olfactory Phase: High aromatic intensity, with notes of dried fruit such as dried apricots, raisins and figs. Memories of honey, bitter orange marmalade and a background of botrytis.
Gustatory phase: The entry into the mouth is sweet, enveloping and with a marked acidity that makes the aftertaste persistent.
Patés, blue or cabrales cheeses and sausages to red meats, fish in sauce and spicy dishes.
Similar White Wines