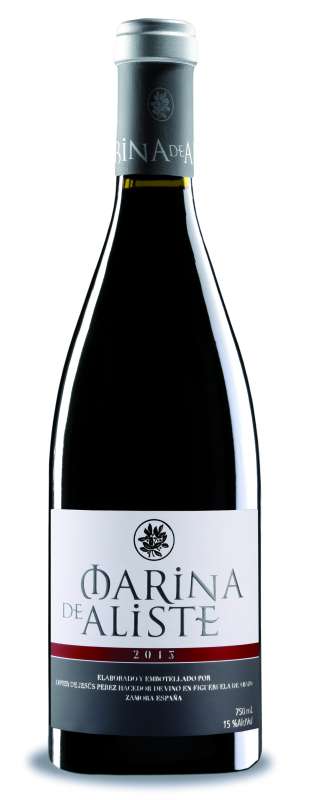 Marina de aliste 2015 Organic wine
Classification: Crianza
Year: 2015
Winery: Bodega Aliste
Alcohol: 14.5 %
Quantity: 75 cl
MARINA ready 2015
exit the market: March 2017
crops prior: 2006, 2007, 2008, 2009, 2010, 2011,2012 and 2013 and 2014
farms of origin: Yagome, Moreno Llamoricas
municipality: Figueruela de Abajo
REGION: ready
varieties of grape: 90% Tempranillo, 10% Shyrac
VITICULTURE
style of PRUNING: in glass
CULTIVATION: rainfed
irrigation: not
PRUNING on Green: not
production by strain: 1.5 Kg.
Vintage: on 19 and 20 September
average age of vines: 14
development
DESTEMMING: Yes
CRUSHING: very slight Manual, without pump.
Yeast: is not planting of yeasts, ferments with the own grape.
COLD MACERATION: for 3 days at 5 ° C with dry ice.
FERMENTATION: barrels of 300 litres with open top oak
CRIANZA: 12 months
type of BARRELS: 3 barrels 100% French, and 3 sophomore, Oak
3 of third year and fourth year 4 all 300 litres.
CLARIFICATION: albumin
EST. COLD: Not
filtering: if
analysis
ALCOHOL: 14.95%
TOTAL ACIDITY: 6,00 g\/l
PH: 3.72
index of total POLYPHENOLS: 76
tannins: 5,2 g\/l
production
3,200 bottles
tab technique MARINA ready 2015
development
Marina de Aliste 2014, is the result of the Assembly's selection of grapes that fermented in 14 barrels of 300 litres with cover open.
Of each barrel extracted the quantity of wine approximately 180 litres, a total of 2,520 liters, that yolk after racked them and the consequent elimination of Lees, waste and filling of barrels get 2250 liters of marine de Aliste 2014 with which we produce 3,200 bottles of 750 ml, and 90 magnum of this vintage.
Follows the origin of the encubadas grapes, so
as media data, both in the vats and barrels,
during monitoring of fermentations:
plot type of soil varieties and
quantities date vintage
YAGOME ARCILLOSO LIMESTONE with QUARTZITE and slate laminate TEMPRANILLO
29 September 1600
LLAMORICAS of MORENO ARCILLOSO LIMESTONE with QUARTZITE and slate laminate TEMPRANILLO
900 September 30
chestnut ARCILLOSO LIMESTONE with QUARTZITE and slate laminate TEMPRANILLO and SIRAC
500 300 30 September
all plots are characterized by extremely poor soils and on steep slopes of 20%. Facing South.
FERMENTATION
all the fermentations began after a period of cold maceration, with the grape around 3 ° C, for 5 days. When they started the fermentation developed a smooth, consistent with a controlled temperature of between 20 ° C and 25 ° C, and average duration of 12 days. Maceration continued for 4 days.
VITICULTURE
all processes of the care of the vineyard are governed by processes of biodynamic agriculture.
Awards or Recognitions:

BEST WINE RESTAURANT IN SPAIN 2011.

GOLDEN BACCHUS 2014

GOLD INTERNATIONAL WINE CHALLENGE CATAVINUM 2013.

CINVE 2012-2013 GOLD

GOLD CONCOURS INTERNATIONAL DES VINS TO LYON 2014.
Similar Red Wines