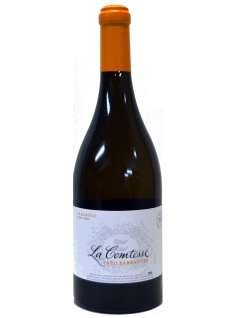 La Comtesse Pazo Barrantes White wine
Year: 2015
Winery: Bodegas Pazo de Barrantes
Alcohol: 13,5 %
Variety: Albariño
Quantity: 75 cl
Vinification: Destemmed prior entry in press clusters, to avoid the transfer of herbaceous flavors of the stalk. A slow and soft pressing allows you to increase the extraction of aromas of the grapes from old vines. After settling, the clean must is fermented in 3,000 liters of fine grain French Allier oak casks, during 60 days at a temperature controlled (10 ° C). During 6 months stays in contact with its Lees, in order to increase its volume and intensity on the palate.
Process of aging: after fermentation and contact with Lees, the wine remains for 12 months in the vats.
Surround nose, exalt you finesse, complexity and persistence, ranging from white flowers to fresh fruits, with hints of laurel and drained fresh touches. In mouth it combines power with finesse, presents freshness and structure, step creamy and fluid, kind and very elegant. Frank and perfectly integrated acidity. Large and fatty with excellent length and texture.
Crawfish to skillet with fresh Pasta and vegetables, lobster grilled, sorrel mayonnaise, shrimp steam, mustard and truffle oil, warm salad of prawns, Green Apple and honey mustard.
Awards or Recognitions:

93 points Parker.