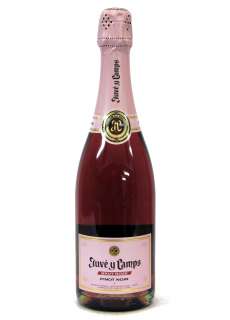 Classification: Brut
Winery: Juvé y Camps
Alcohol: 12 %
Variety: Pinot Noir
Quantity: 75 cl
Equipped with a beautiful pink cava. Numerous cords which form its multiple, tiny bubbles create a truly spectacular effervescence. The white of his Crown, abundant and persistent, color contrasts with its pinkish background. Its aroma is delicate and intense. In him we can enjoy clear notes of cherries and strawberries, all surrounded by shades of honey, toast and floral memories. Your palate is lush. The effervescence that emerges to the taste is intense and creamy. Caresses the inside of the mouth without show less aggression, and releases the aromatic richness that contains it.
Combines with all sorts of dishes
Awards or Recognitions:

90 Parker points.

86 points Peñín.