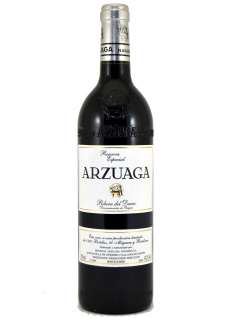 Arzuaga Especial Red wine
Classification: Reserva
Year: 2014
Winery: Bodegas Arzuaga Navarro
Alcohol: 14,5 %
Variety: Tempranillo
Quantity: 75 cl
Grapes from centuries-old vineyards, traditionally grown on clay-calcareous soils with very low yields per hectare.
Color with high intensity, bright intense purple red with cardinal hues.
Deep, complex, concentrated and intense olfactory phase where aromas of ripe black fruits, mint, cocoa, mineral predominate and a light background of toasted and caramelized tones. Very fine and complex aromas that evolve favorably throughout the tasting.
Tasting phase with a fresh and friendly entry, giving way to a smoothness and meatiness very characteristic of this wine. Elegant in the mouth, fresh and with texture, to finish with a long aftertaste where we once again recall the primary fruity, spicy and caramelized aromas.
To complement the elegance of this wine, we recommend accompanying it with roasted red meats or in sauce, game of hair and feathers, soft or slightly cured cheeses and blue fish.
For a pairing of contrasts, try leaving a little for last and enjoy it with a dark chocolate dessert.