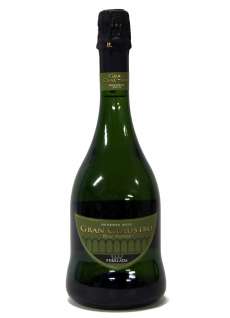 Gran Claustro Cuvée Especial Nature
Classification: Brut
Winery: Bodegas Castillo de Perelada
Alcohol: 12 %
Variety: Parellada, Chardonnay, Pinot Noir
Quantity: 75 cl
This sparkling wine produced with the traditional method has created its own identity over the decades thanks to factors such as the use of grape varieties and the mild climate of its growing area. The term Cava comes from the word used to designate the caves where it is traditionally made.
Elaborated from grapes of vineyards covered by the D.O. Cava. Flower under controlled fermentation must vinification.
Parenting: fifteen months in the bottle before the disgorging.
Straw yellow pale with slight greenish tones. Limpid and brilliant. Continuous removal of fine bubbles, with formation of Crown. Clean aroma of ripe fruit, with hints of ageing. Taste slightly fruity, dry and smooth, with a good balance. Wide and long on the palate.
Ideal accompaniment of white meats and dishes sailors. It is also excellent for eating only.