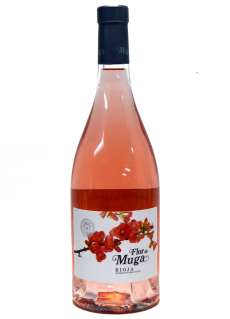 Flor de Muga Rosado Red wine
Year: 2019
Winery: Bodegas Muga
Alcohol: 13,5 %
Variety: Garnacha
Quantity: 75 cl
It is a wine made from grape juice flower, short maceration, which we only take 50%. The fermentation takes place in small deposits of wood, plot by plot. Due to the small size and production of some of the plots some batches must be fermented in 500 to 1,000 litre tanks. Once the fermentation at low temperature proceed to work the fine Lees for a minimum of 4 months. We then proceed to its unification, stabilization and bottling.
Surprises as light color has to be a 100% Grenache. It is well known that Grenache is a variety that tends to give a little color and due to the short maceration which is in press and its particular point of ripeness we get a pink very pale with beautiful violet hues.
The complexity of this wine impresses from the first minute on the nose. You will find an elegant, fresh and very delicate wine which lets us see from acid Strawberry and peach notes at the same time that we perceive a floral scent to rosa that captivates us and that takes over once last minutes in Cup.
In mouth, the first feeling surprised to find us a wine with much volume and fat, rare in pink, giving it a complexity which, together with its minerality and so balanced acidity, make this wine a unique wine.
Roast Turkey, fish, appetizer, sushi rice.