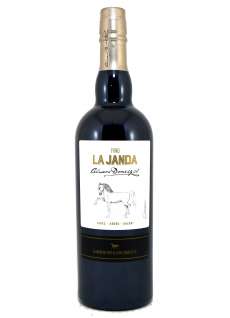 Winery: Álvaro Domecq
Alcohol: 15 %
Variety: Palomino
Quantity: 75 cl
6-7 years of aging in old American oak casks of about 600 liters capacity using the traditional Jerez system, solera and criaderas.
Pale golden in color and shiny in appearance, with a strong and pungent aroma, very vegetal, with hints of yeast and almonds. Its flavor is dry on the palate as well as elegant and long, slightly warm, with a good persistence in the mouth.
Ideal to accompany sausages, mainly Iberian ham. It also pairs perfectly with all kinds of fish: seafood, anchovies, seafood clams, baked fish and also Japanese food.
Similar sweet wines