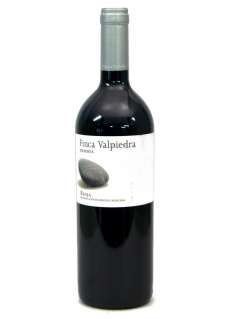 Classification: Reserva
Year: 2012
Winery: Finca Valpiedra
Alcohol: 13,5 %
Variety: Tempranillo
Quantity: 75 cl
Fermentation in tanks of steel stainless with control of temperature. Maceration 17 days. Aging 24 months in barrels of oak French
Color: intensity high, of color cherry and edging of Cardinals. Tear abundant, dense and dyed.
Nose: high intensity, with great complexity and elegance in the matrix aromatic, highlighting the notes minerals and of fruits red and black, memories of incense. Together with fine French oak from wood notes, like vanilla, cedar, tobacco and spices.
Liked: in the phase initial of the taste, denotes an excellent softness and volume developing a fine structure tannic that it makes tasty and flavorful. The freshness that you provides the Graciano, it makes more balanced with regard to the alcohol, showing an aftertaste very long and a final nice. By via finish we return to appear them notes spicy, fruit and them from of the wood.
Cheeses of healing medium. Meat red braised, lamb to the oven and dishes of hunting more (roe deer and chamois). Dishes of mountain as the cooked mountain or the beans pints with pork.
Price:
21,30 £
per unit
//=texto('I.V.A. incluido')?>