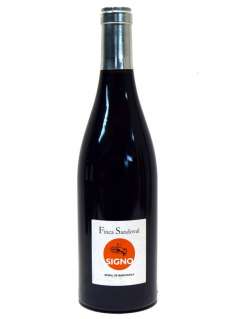 Finca Sandoval Signo Red wine
Year: 2011
Winery: Finca Sandoval
Alcohol: 14,5 %
Variety: Syrah, Bobal
Quantity: 75 cl
From vines over 40 years 850 metres of altitude, another classic, although today caste very minority of Manchuela. With a small contribution from garnacha tintorera.
Cherry color, intense, deep and bright. On the nose it has a high intensity in which stand out the toasted upbringing until going oxygenating it, are fruity notes, a ripe black fruit well conjugated with delicious roasted, spicy and balsamic notes. Complex, robust and elegant. In the mouth it has a powerful entry that is smooth in its passage being at the same time warm and silky. Surprising acidity, deep, refreshing and defined a marked very pleasant tannins. Long and very persistent finish.
Birds, white meat, barbecue, rice, sausages, cheeses.
Awards or Recognitions:

parker 92 points.
Similar Red Wines