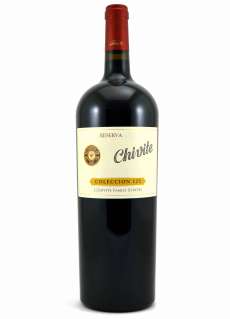 Chivite Colección 125 (Magnum) Red wine
Classification: Reserva
Year: 2012
Winery: J. Chivite Family Estates
Alcohol: 14 %
Variety: Tempranillo
Quantity: 1,5 liters
The best vineyards of Legardeta vendimiaron by hand, where it was the first selection of the best grapes. Traditional processes and the most sophisticated technology shook hands on this red book to highlight the unique character of the fruit.
Stay in barrricas: 14 months in barrels of French oak, 60% new, 40% of second wine
striking dark Cherry colour whose nose is intense and very expressive. The aromas of oak barrels are great quality wood. On the palate is velvety, friendly, complex and sweet tannins.
Meats, stews, cured and grilled cheese.
Similar Red Wines