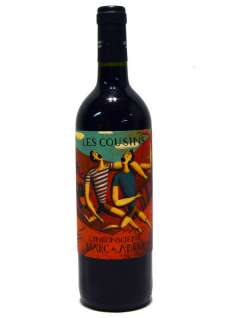 Les Cousins L'Inconscient Red wine
Year: 2018
Winery: Les Cousins Marc & Adrià
Alcohol: 14 %
Variety: Sauvignon\/Cabernet, Merlot, Syrah
Quantity: 75 cl
Once grapes is selected and destemmed, fermented with indigenous yeasts in stainless steel vats and maceration continued for a period of between 15-20 days. After a soft pressing, the wine from each variety separately, rested in baths in 7,000 litre French oak for 12 months. He rested for 2-3 months in stainless steel tanks.
Cherry colour with violet edges. Layer average and tear stained. The nose is a little shy at the beginning, once opened is an explosion of red, greedy and juicy, fruit that mingle with creamy toasted, suggestive notes that occur over a very subtle mineral Foundation. Nice entry, with a creamy from the first moment feeling and a step light, easy to drink. Gourmet fruit, nice spicy and mineral notes, having the feeling of damp earth. Its tannins are round and ripe, good with their sweet tinge. And its acidity is balanced with freshness. With a long finish, leave memories of juicy fruit and moist soil.
Meats grilled, roasted, red meat red hunting.