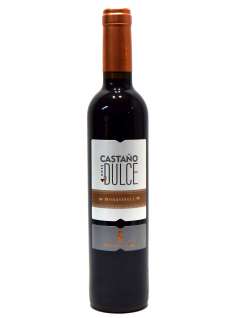 Castaño Dulce Monastrell Red wine
Year: 2016
Winery: Bodegas Castaño
Alcohol: 16 %
Variety: Mourvèdre
Quantity: 50 cl
Ageing: 6 months in French and American oak barrels. The Monastrell: Worldwide there are approximately some 120,000 ha., of which 50,000 has are located in Spain, and of them, about 300 you have. they are owned by the Brown family. This variety, adapts perfectly to the weather conditions and terrain of Yecla, since it is able to withstand temperature differences, hot summers and long, cold winters. But mostly it's able to withstand long periods of drought, in which its development and production go down considerably.
Already in the 15th century, there is evidence of the presence of this variety in Spain, especially in the area of Levante, which has extended to other latitudes.
In France the variety is known as MOURVÈDRE, name that comes from the Visigothic name of the city of Sagunto, Valencia, in California and in the South of Australia known as MATARÓ.
The gradual incorporation of their three children to the family winery along the 80, brought a new approach: consolidate national markets and begin a stage of expansion into international markets.
Is on the conditions offered by the area of the Altiplano, where Mediterranean and continental climate where the Monastrell brings all its color, body, structure and softness, so it can be said that it is their best habitat.
Cherry deep trim tile.
Nose clean, current media, with memories of black fruit, dehydrated, carob and black olives.
Fresh and tasty, sensations of plum jam and dried fruits (figs). Nice finish with a point of acidity that balances the sweetness.
Dessert wine