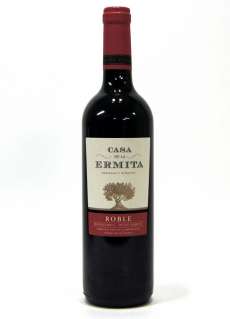 Casa de La Ermita Red wine
10,11 £
per unit
Not available
Classification: Oak
Year: 2018
Winery: Bodegas Casa de la Ermita
Alcohol: 13,5 %
Variety: Monastrell, Petit Verdot
Quantity: 75 cl
Elaboration: Monastrell grapes harvested at the end of September, 2008, at their optimum point of ripeness phenolic, ungrafted vines, grown in rainfed with around 60 years, therefore are small and compact clusters. Those of the Petit Verdot variety were collected in the second week of October (since it is a variety of ripening late in the Levant area) this grape variety produces small clusters, and tiny beads and loose, conferring to the wine structure and intensity of color. Pre-fermentation cold at 7 ° C for 3 days for the two varieties, resulting in greater extraction of polyphenols, contributing in this way to a short mcos fermentation, but with better results. The wine obtained thus has higher concentration of primary and varietal aromas.
Purpura-violaceo red of medium intensity. Intense notes of ripe red fruits, milk, balsamic, subtle toasty and mineral notes. Good load of fruit, aromatic Woods, cocoas and spices white. Middle, noble character tannic structure. Passage through the mouth fresh, fruity and pleasant. Remarkable persistence.
Tasty white meat, red meat, pâtés, charcuterie, medium aged cheeses, blue fish, stews, stews, spicy paste, etc.
Casa de la Ermita: More products