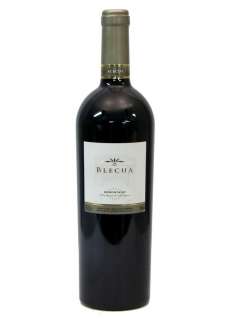 Year: 2002
Winery: Viñas del Vero
Alcohol: 14 %
Variety: Tempranillo\/Cabernet Sauvignon, Grenache, Merlot
Quantity: 75 cl
Blecua is made from a triple selection of vineyards, clusters and barrels. The seven best vineyards of Viñas del Vero of four varieties: Garnacha, Tempranillo, Merlot and Cabernet Sauvignon, are carefully harvested by hand and collected in small boxes where you select bunches at the triage desk. Each variety fermented separately in foudres-French oak and aged separately in new barrels of French oak of Allier forest from four different Coopers. After twelve months, the best barrels of each variety are selected, and prepares the final Assembly, which will oak barrels for eight months. The wine is bottled without being subjected to stabilization or filtration processes. Its production is very limited.
Cherry Red deep. Elegant aromas from passing through the new barrels along with black fruit, spices and menthol. Powerful, I live and structured, very attractive where fruit tones appear together with balsamic, toasted and dairy.
Roast Turkey, roast lamb, stews, Civet, small game hunting hair, goat cheeses.