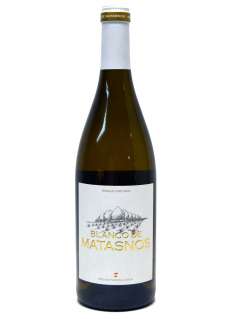 Blanco de Matasnos White wine
Year: 2018
Winery: Bodegas Bosque de Matasnos
Alcohol: 14 %
Variety: Verdejo, Chardonnay
Quantity: 75 cl
It is harvested in 12-kilo boxes and transported cold to the winery where it stays overnight reducing temperature. The next day is selected on a cluster tape. It is fermented at low temperature with selected yeasts in the Bosque de Matasnos in new 500-liter barrels from a single French forest. Wood specially selected for this wine. It is aged for only 6 months to prevent wood from taking center stage.
COLOR: Bright yellow with greenish background. Cleansed.
NOSE: High intensity, clean and complex. Fruit predominates, from tropical to white fruits, pineapple, pear in syrup, light citrus, balsamic hint of bay leaf, light and interesting spices on the background without hindering its fruity essence, some nutmeg, white pepper and a salty touch.
MOUTH: White and green fruit, pear and golden apple, tropical pineapple finish with the presence of mowed green, typical of our Verdejo. Round, with magnificent acidity, intense and with volume, certainly fatty, long. Terroir minerality, salty memories. It came from a single plot.
Similar White Wines