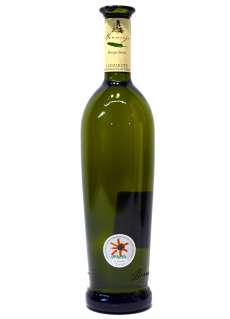 Bermejo Diego Seco Organic wine
Year: 2019
Winery: Bodegas Los Bermejos
Alcohol: 13 %
Quantity: 75 cl
The vineyards of the island of Lanzarote are planted in holes, sometimes up to 4m deep, excavated in the porous volcanic sand known as picón. The plants grow in them trying to conserve all the possible humidity for the life of the plant, in a creeping way, in a soil where the phylloxera cannot live and with very low yields. Vinification and Aging: the Diego grape is treated with special care since its thick skin can add herbaceous aromas to the wine. Fermentation in a stainless steel vat at low temperature, to extract the aromatic potential of the wine.
Abundant notes of jasmine, anise and grass. Meaty, glyceric and with freshness.
Seafood such as limpets so typical of the Canary Islands, grilled fish or traditional "Papas arrugás" seasoned with the traditional cilantro Mojo sauce, and generally dishes containing fresh aromatic herbs such as basil.
Similar White Wines