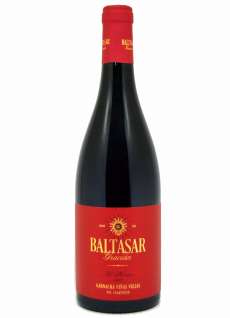 Baltasar Gracián Viñas Viejas
Year: 2018
Winery: Bodegas San Alejandro
Alcohol: 14 %
Variety: Garnacha
Quantity: 75 cl
Dark Cherry colour, clean and bright. Displays a nose clean of medium-high intensity outstanding aromas of berries, fruits red and light floral notes. Its aromatic intensity provides mineral nuances accompanying notes of his upbringing, pleasant aromas of roasted coffee. Balsamic background refresh all. Entrance wide and warm. It has a nice and soft, mouth with fruit and wood in harmony. Good acidity and tannins. Flavourful in the mouth with a concentration intense fruit and toasted tones that leave a memory persistent and balanced.
Sausages, vegetables, Roasted Turkey, roasted lamb, red meats to grill, stews, stew, duck, cheeses.
Awards or Recognitions:

90 points Peñín.