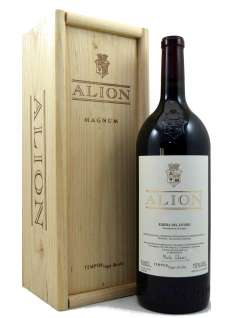 Classification: Reserva
Year: 2016
Winery: Bodegas Vega Sicilia
Alcohol: 14 %
Variety: Tempranillo
Quantity: 1,5 liters
Alion was born alongside the Douro, in the lineage of the Vega Sicilia, but ground-breaking and independent-minded. In fact, his philosophy and personality is clearly defined from the moment of Foundation of the wineries.
Because since his first steps are beginning to trace the aromas and flavors of a free, modern, attractive wine with strength and exuberance, with exclusive expression of the fine red variety, a concept radically different to the vegasiciliana tradition. The grape has the character of the Duero, breeding is exclusively in French new wood and uses, in addition, most modern oenological practices, so the result is radically different. , Alion is an excellent wine, adapted to the taste of the end of the Millennium, cut by the pattern of a quality that does not understand frontiers, international but always marked by the character and personality of the region which sees him to be born.
Red cherry with violet reflections. Layer high, clean and bright. Slightly tinted tear. Clean and very intense nose. Good balance between aromas of black and red, ripe fruit and nice toasted notes. Spicy nuances (vanilla, nutmeg, pepper), any note of tobacco, soft hints of cocoa, a subtle mineral touch and light balsamic. Good tour with a great fruit load, in balance with the wood, very subtle, and with spicy hints. Tasty, meaty and expressive way. Sweet and fine tannins still somewhat drying. Good acidity that deepens it and defines. Long and very persistent finish.
Vegetables, grilled red meats, stews, Civet, small game hunting hair, semi-cured cheese.
Alión: More products

Similar Red Wines