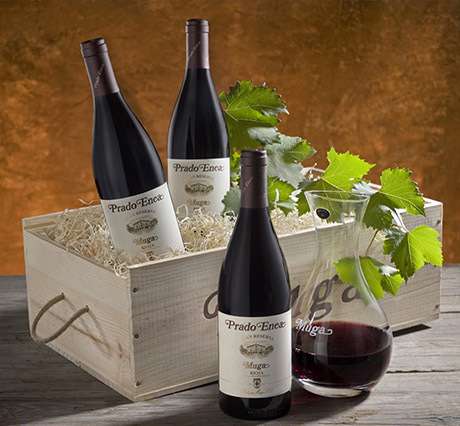 3 Prado Enea 2014 + Decanter en caja de madera Red wine
Classification: Gran Reserva
Winery: Bodegas Muga
Alcohol: 14,5 %
Variety: TEMPRANILLO, Grenache
Quantity: 75 cl
In addition to our Torre Muga brand, the Prado Enea harvest is always the last to be brought to the winery and is selected from plots and land located in the Villalba de Rioja area, on the foothills of the Obarenes Mountains, facing south, a recognized high quality terroir. The grape grains are fermented in oak tanks without temperature control or the addition of yeasts. The maceration period is 16. The wine ages for 12 months in tanks of 160 hectoliters, which is followed by a minimum of 36 months in barrels, generally French oak. At the end of the aging period, the wine is slightly clarified with fresh egg whites before being bottled and stored in our cellars for at least another 36 months, in order to complete the aging process.
This Gran Reserva Prado Enea shows an attractive, deep and intense cherry red color.
The nose is immediately expressive and reveals seductive and complex aromas that are both delicate and elegant. Subtle notes of creamy oak blend with a wide range of red and black berries along with hints of licorice and toast.
The entry on the palate is smooth, followed by a medium body with a silky, fleshy and round texture balanced by a pleasant freshness. With its ripe, refined tannins and fine acidity, this Gran Reserva can be enjoyed today, but has the potential to age wonderfully during
Awards or Recognitions:

94 points Parker.

92 points Peñín.
Similar Red Wines