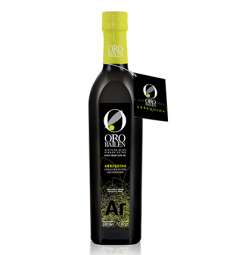 Oro Bailen, Reserva familiar, Arbequina Extra virgin olive oil
Packaging: Bottle glass
Variety: Arbequina
Quantity: 50 cl
Oil extra virgin olive, arbequina variety, exceptional delicacy of the aromas of this variety with the force and the character of the lands of the South. A fruity middle of fresh olives, with green aromas of herbs and green wheat interspersed between the fruity notes characteristic of the arbequina; It stands out almond, Apple and ripe banana.
Your mouth is progressive, with a soft and delicate, input a bitter back very lightweight and something more remarkable the presence of the spicy. It is harmonious and the nutty aftertaste.
Oro Bailén Reserva Familiar ARBEQUINA is only packaged in glass 500 ml. format
use we recommend to reserve family is essentially raw, whether its application in cold, warm or hot, for example food: salads, bread and oil, Carpaccio, vegetable, fish or cooked dogs steam, iron or oven, but that if, always after so that the oil in contact with hot food output all its phenolic compounds (aroma cause), and will allow us to enjoy the oil as a food in the dish Setup.
To understand a little effort used to obtain a liter of Oro Bailen reserve family are needed between 8 and 10 kg. olive, in percentage terms; with yields of between 10% and 12% in oil, depending on the harvest each year.
Oro Bailen: More products

Similar olive oils