Melgarejo, Premium Picual Olive oil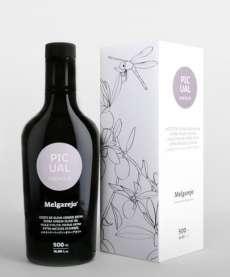 Packaging: Bottle glass
designation of origin: Sierra Mágina
Variety: Picual
Quantity: 25 cl
A picual again minted: conceived with Supreme refinement and prepared with consummate care, gourmet public-facing.
Par excellence Jaen, the picual variety characteristics are presented properly and will have boosted new sensations, values upward.
Highlights its intensity and aromatic persistence, very clean fragrances that evoke olive, mainly herbs and especially to lawn freshly cut, Apple, pistachio...
first appreciation in the mouth is fascinating and amazing elegance, with enormous fruitiness, bitterness manifest and nothing excessive, being fatty and ending with character, a subtle and even complacent itch be imposed in the aftertastevery manageable. Vibrant green color.
Melgarejo: More products