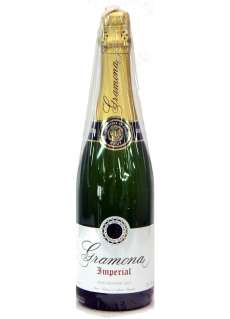 Classification: Brut
Winery: Bodegas Gramona
Alcohol: 12 %
Variety: Macabeo, Chardonnay
Quantity: 75 cl
The finesse and elegance of this Gran Reserva vintage, have become it a classic among its consumers addicted. This Gran Reserva has a period of aging in the cellar between 3 and 4 years.
Straw-yellow with new gold reflections. Subtle perfume of Apple, biscuit, species, flowers and a suggestive sea breeze, his intimate contact with the yeast aromas to mature with toasted bottoms fruits and nuts. His crisp and invigorating touch simultaneously along with a prolonged freshness of good good-natured and a pleasant voice alcoholic, become a sea of possibilities to discover dishes.
Versatile cava can be taken during all the food up in the dessert
Awards or Recognitions:

92 points Peñín.
Gramona: More products