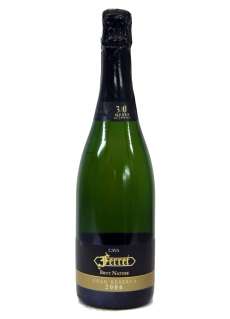 Llopart Imperial Panoramic Organic wine
Classification: Gran Reserva
Winery: Llopart
Alcohol: 12 %
Variety: Parellada, Macabeo
Quantity: 75 cl
A Gran Reserva for lovers of long-aged and evolved cellars. Coupage with the incorporation of a 15% reserve base wine.
Minimum aging in bottle of 42 months.
Yellow-gold color, with brilliant golden reflections. Very thin bubble. Complex aromas of long aging: nuances derived from lees, toasted, honey and nuts, with light reductive brushstrokes. In the mouth it is broad and structured, very creamy, and with a perfect sugar-acid balance. Persistent taste and with character.
Very appropriate to accompany consistent meals.