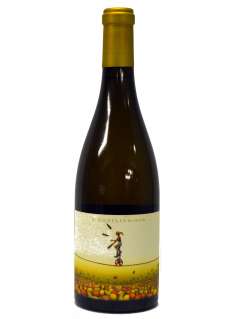 L'Equilibrista Blanco White wine
Year: 2018
Winery: Can Dez Mas (Ca N'Estruc)
Alcohol: 12,5 %
Quantity: 75 cl
L Equilibrista Blanc is made from grapes Xarel - thing from old vines of more than 40 years. The winery has 26 hectares of vineyards that are 165m of altitude above sea level.
To produce this wine has passed aged for 6 months in new 300 and 500-litre French oak barrels.
Intense yellow streaked port copper colors.
Has lots of fruit white and meaty like Apricot and peach water in the nose. The aromatic complexity that starts with the fruit is developing toward Flint, citrus - lemon, lime and pink grapefruit - skin, tropical fruits (pineapple) to finish with a touch of toast and skin hazelnuts. Little by little white flowers are gaining ground along with ink and toasted bread with butter aromas.
The mouth has a wide entrance, with fat and unctuous accompanied by a vibrant freshness. In the mouth is right, deep and with a slight tannic perception of the barrel. At the end intensifies the minerality and appears the fleshy fruit with citrus. Exceptional length.
Bonito, flatfish, braised vegetables