Vega Sicilia Único (Magnum) Red wine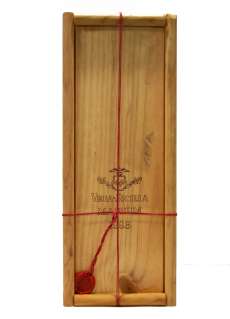 Year: 2008
Winery: Bodegas Vega Sicilia
Alcohol: 14 %
Variety: Tempranillo
Quantity: 1,5 liters
It is the reference of Vega Sicilia wine, although it shares with the rest of the wines from the winery his Special Flash. It comes from the oldest vines of the property and in its composition, as well as tempranillo, enters more cabernet sauvignon than merlot. Although it is old, the Red keeps a resiliency provided by its good acidity with a resounding alcoholic.
Cherry color intense, stand out the toasted touches of wood. On the palate, it has flavor of ripe but clean, dry, soft and bitter tannins from oak wood.
Meat and game, both grilled, roasted and Braised, pastes, creams and soups, prepared with vegetables such as some beans with ham or cabbage with bacon, fish such as hake in sauce and the fish stew. Its enormous possibilities allow you to combine with elaborate recipes where you can appreciate in its entirety the brilliance of this great wine.
Vega Sicilia: More products