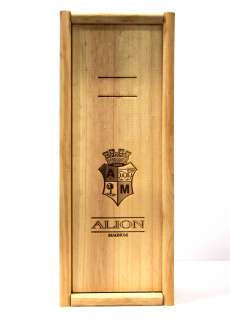 Classification: Reserva
Year: 2013
Winery: Benjamín de Rothschild & Vega Sicilia
Alcohol: 14 %
Variety: Tempranillo
Quantity: 1,5 liters
Alion was born alongside the Douro, in the lineage of the Vega Sicilia, but ground-breaking and independent-minded. In fact, his philosophy and personality is clearly defined from the moment of Foundation of the wineries.
Because since his first steps are beginning to trace the aromas and flavors of a free, modern, attractive wine with strength and exuberance, with exclusive expression of the fine red variety, a concept radically different to the vegasiciliana tradition. The grape has the character of the Duero, breeding is exclusively in French new wood and uses, in addition, most modern oenological practices, so the result is radically different. , Alion is an excellent wine, adapted to the end of Millennium international taste; cut by the pattern of a quality that does not understand frontiers, but always marked by the character and personality of the region which sees him to be born.
Red cherry well covered layer. Intense, full of aromas that recall the sloe and other ripe fruits (blackberries). Gorgeous spicy contributions (cocoa). Fragrant, clean, complex. Menthol and balsamic background. Large. Medium-bodied frame. Balanced, meaty and harmonic in the relationship of acidity and alcohol. Abundant tannins that pass the mouth with a rare smoothness. Hints spices at the end of the mouth.
Fillets and other meat of grilled beef, lamb, stews of vegetables, stews with Asturian bean stew, beef bone and cooked Highlanders, castellanos or Madrid, cold creams, rice, salad of cod, brains and crawfish, or with fish as a cod Al PIL pil