Pimentón de la vera Caballo de Oros, PICANTE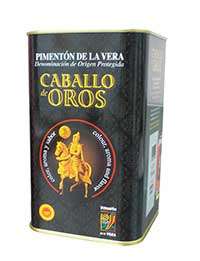 Weight: 800 gram
Paprika from the Vera PICANTE D.O. horse of gold.

Intense red color, flavor and aroma of wood smoke; Jaraíz de la Vera made under the seal of the denomination of origin.

Can be used raw in dishes of Octopus, fried eggs, cheese or incorporating it into stews, potatoes...

keep in cool and dry place.

Does not contain gluten.