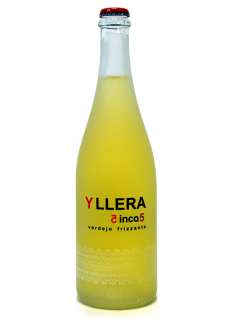 Yllera 5.5 Verdejo Frizzante White wine
Winery: Bodegas Grupo Yllera
Alcohol: 5,5 %
Quantity: 75 cl
Harvest night. Destemming. For extraction of aromas cold pre-fermentation maceration.
Soft pressing with pneumatic press of lung for the obtaining of the grape juice that is kept at low temperatures to its fermentation.
Partial fermentation of the wort, paralyzing it if 5.5 degrees of alcohol, thus respecting natural grape sweetness and acidity and keeping the CO2 from fermentation.
Clarification and stabilization.
Yellow straw, clean and bright.
Aromas typical verdejo grape musts: Green Apple, citrus notes, white flowers, rose petals, mineral and honeyed notes, and exotic tropical fruits (pineapple, passion fruit, lychee,...)
powerful on the palate, with a very nice tour (sweet flavors with a Tip of acidity that gives it freshness and nerve), with a spark of carbon which makes it refreshing and perfect for any occasion.
Long and very persistent finish.
Ideal as aperitif wine or wine of snack:
magnificent pairing with desserts of fruit and chocolate.