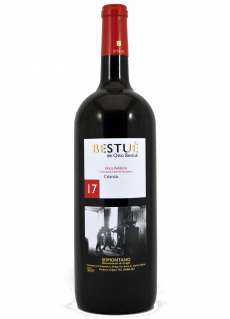 Bestué Finca Rableros (Magnum) Red wine
Year: 2017
Winery: Bodega Otto Bestué
Alcohol: 14 %
Variety: Tempranillo Cabernet Sauvignon
Quantity: 1,5 liters
Once the grapes reach their optimum ripening point, the harvest begins. Thanks to the closeness of the farms to the winery, the grapes do not suffer, since in a few minutes the trailer has reached the winery to unload the complete and healthy bunches in the receiving hopper. Once in the hopper, destemming is carried out to separate the scrape from the grain and proceed to crushing. Then all the must, together with the skin, goes to the stainless steel tanks to proceed to fermentation for 8 days at a controlled temperature (29oC) and later, the maceration, from which it will extract an intense color, will continue for another 20 days. Finally the wine will age for 7 months in French and American oak barrels, after which it will be filtered and bottled.
Medium intensity cherry red color with violet tones on the edges. Clean and intense aromas of ripe red fruit, on a bed of spicy aromas characteristic of its passage through barrels. Fruity, mature, elegant and subtle with a great finish in the mouth.
Ideal with meats, pasta and cheeses.
similar.